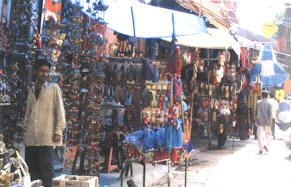 Although most tourists visit Jaipur to view its grand monuments, nonetheless there are many who come to shop. The list of things available is endless, but the more popular items on the agenda of visitor to the city are jewellery, textiles and saris, goods made of marble, wood, stone, lac, clay, metal and leather. The city has been a traditional centre of the finest of jewellery bedecked with both precious and semi precious stones, enamelling of gold in green, red and white, the favourite colours of the Mughals, which was introduced Raja Man Singh. The city is known all over the world for diamond and emerald cutting.

Anyone searching for lac jewellery should visit maniharon Ka Rasta where lac jewellery is made and sold and Johari Bazaar where jewellery is crafted and sold. The variety is tremendous. Among the buys are table tops, mirror frames, betel nut boxes and sindoor holders. On the export list are statuettes, photo frames and pill boxes which are available in abundance on M.I. Road and the silver shops on the Badi Chaupar crossing. Two lanes joining the main road. Gopalji ka Rasta and Haldiyon ka Rasta have a number of shops selling jewellery and on the main road one can see silversmiths. It is closed for some time on Sunday and Tuesday. The cutting, polishing and selling of precious and semi precious stones is centred around the Muslim dominated area of Pahar Ganj in the Surajpol Bazaar area. Silver jewellery is also made there. There are numerous factories and showrooms along the length of Amber Road between Zorawar Singh Gate and Holiday Inn. Here one will find hand block prints, blue pottery, carpets and antiques.

Apart from jewellery, glazed blue pottery, an art that was imported from ground Persia is very famous. Blue pottery is made from ground quartz stone. On sale are surahis, pots, ear-rings, soap dishes, door knobs, mugs and jugs. Brass is another important metal and statures of various sizes are available besides brass animals used by children as toys. Items made of white metal are also great buys as are the carvings in stone especially white marble used for making statues of gods and goddesses, animal and human figures. Carved marble bowls, vases and other decorative items also figure high on the list of the shopper.

In the leatherware section are the mojaris juttis, bags, saddles, purses, toys and dolls made of clay and cloth. The city has a large no. of carpet centers and command a good export market. They are inspired by the Afghan carpets with the design mostly being Persian and Caucsian, Namads, (Soft Woolen druggets) decorated and embroidered as also hand - woven cotton durries are speciality of the city artisans and the main production centre is Tonk. Bapu Bazar and Nehru Bazar are markets where one can purchase textiles, local perfumes, sarees, pashmina, shawls and shoes made of camel skin. Bapu Bazar is closed on Sunday. Textile range from hand - block prints, tie and dye and embroidered fabrics for which Rajasthan is known worldwide. Sanganer which is on the outskirts of the city is the prime centre for block - makers and printers with the chief colours being orange and red with floralprints in yellow and blue - black. They all combine together to to give an excellent look.

Mirza Ismail Road (M I Road) is a wide and long road where a large no. of emporia are situated and is the right place for buying a variety of goods ranging from Jewellery, brass work to textiles. The shops here are a tourists delight. Since one can buy souveniors, curios, handicrafts and gift items. During or after shopping it would be worth its while to sample te unusual thick ice - cold lassi. The emporia and shops accept all credit cards and travelers cheque. (Closed on Sunday)

Tripolia Bazar and Chura Rasta have textile and utensil shops, trinkets and all kinds of goods made of iron.
If you are looking for some specific product and want to know where it is available, refer to the shopping section in the classified information columns.


If you couldn't find what you were looking for, then please send in your request