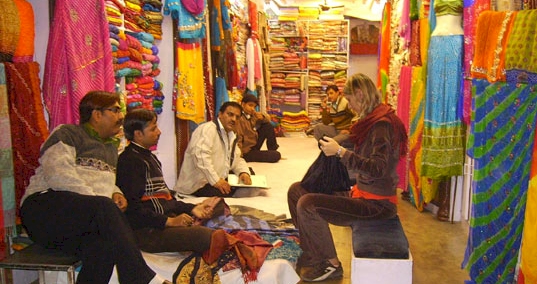 Jaipur shopper Paradise
Although most tourists visit Jaipur to view its grand monuments, nonetheless there are many who come to shop. The list of things available is endless, but the more popular items on the agenda of visitor to the city are jewellery, textiles and saris, goods made of marble, wood, stone, lac, clay, metal and leather. The city has been a traditional centre of the finest of jewellery bedecked with both precious and semi precious stones, enamelling of gold in green, red and white, the favourite colours of the Mughals, which was introduced Raja Man Singh. The city is known all over the world for diamond and emerald cutting.

Anyone searching for lac jewellery should visit maniharon Ka Rasta where lac jewellery is made and sold and Johari Bazaar where jewellery is crafted and sold. The variety is tremendous. Among the buys are table tops, mirror frames, betel nut boxes and sindoor holders. On the export list are statuettes, photo frames and pill boxes which are available in abundance on M.I. Road and the silver shops on the Badi Chaupar crossing. Two lanes joining the main road. Gopalji ka Rasta and Haldiyon ka Rasta have a number of shops selling jewellery and on the main road one can see silversmiths. It is closed for some time on Sunday and Tuesday. The cutting, polishing and selling of precious and semi precious stones is centred around the Muslim dominated area of Pahar Ganj in the Surajpol Bazaar area. Silver jewellery is also made there. There are numerous factories and showrooms along the length of Amber Road between Zorawar Singh Gate and Holiday Inn. Here one will find hand block prints, blue pottery, carpets and antiques.

Apart from jewellery, glazed blue pottery, an art that was imported from ground Persia is very famous. Blue pottery is made from ground quartz stone. On sale are surahis, pots, ear-rings, soap dishes, door knobs, mugs and jugs. Brass is another important metal and statures of various sizes are available besides brass animals used by children as toys. Items made of white metal are also great buys as are the carvings in stone especially white marble used for making statues of gods and goddesses, animal and human figures. Carved marble bowls, vases and other decorative items also figure high on the list of the shopper.


| | |
| --- | --- |
| Name of Bazaar /Lane | Specialization |
| Badi Chaupar | Turbans |
| Bhindon ka Rasta | Marble Statue Carving |
| Chameli Bazar | Silver |
| Chandpol | Pickles & Sharbats |
| Chora Rasta | Jaipur Bookshop, Maps, Guide Books, Traditional Ladies Tailors, Quilts, Tent Makers & Jaipur Specialty Namkins. |
| Chhoti Chaupar | Moodas (Straw Chairs) |
| Ghatgate Bazaar | Iron Work |
| Gheevalon ka Rasta & Haldiyon ka Rasta | Jaipur Speciality Sweets, Digestives & Supari |
| Gopalji ka Rasta | Precious & Semi Precious Stones |
| Handipura | Kites |
| Hawa Mahal | Antique Textiles, Quilts Costume, Fashion Accessories & Leather Crafts |
| Johari Bazaar | Textiles (Lehariam Bandini, Zari, Gota, Mukesh & Embroideries), Gold, Precious Stones (Loose), Semi Precious Stones (Loose) Contemporary, Precious Enamel Work & Jaipur Speciality Namkins (Snacks), Panner Ghewar at LMB Sweets |
| Kalyanji ka Rasta | Marble Statue Carving |
| Khazanewalon ka Rasta | Idols & Sculptures, Stone Inlay work, Stone Carving (Screens etc.) & Marble Crafts |
| Kishanpole Bazaar | Tent Makers & Silver |
| Koli Basti | Carpet |
| Kumharon ki Nadi | Pottery |
| Loharon ka Rasta | Iron Work |
| Maniharon ka Rasta | Lac Work |
| Nahargarh Road | Local Musical Instruments |
| Pannigeron ka Mohalla | Silver and Gold Foil |
| Purani Basti | Wood Blocks |
| Ramganj Bazaar | Shoes / Mojari |
| Sanganer | Block Printed Textiles & Traditional Block Prints |
| Tateron ka Rasta | Copper, Brass, Metal Work & Brass Inlay Work |
| Teli Para | Leather Shoes |
| Tripolia Bazzar | Utensils, Tin Trunks & Metal Work |
If you couldn't find what you were looking for, then please send in your request