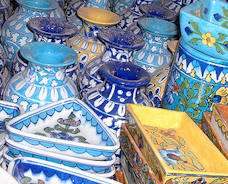 Heritage India
38, Golimar Garden Scheme, Near Hotel Holiday Inn, Amber Palace Road, Jaipur. Ph. 0141-2672021. For Finest Blue Pottery and Wood Handicrafts. Mfrs. & Exporters of Blue Pottery, Brass Enamel Ware, Brass Wire Inlay on Wood, Paintings & Other handicrafts.





Neerja International Inc.
S-19, Bhawani Singh Road, C-Scheme Extn.
Jacob Road, Civil Lines. Jaipur
Larges Mfrs. and exporter of famous Jaipur Blue Pottery.

Kuber Handicarft
B-2, Jaipur Towers, Opp. AIR, M.I. Road Jaipur

Bharat Potteries Limited Ceremic Tabeware Pvt Ltd.
Road no.-6, VKI Area Jaipur.


If you couldn't find what you were looking for, then please send in your request