Jaipur Boutiques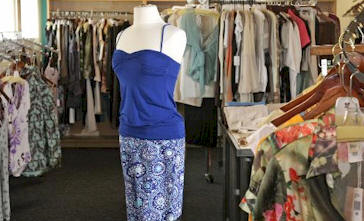 ANANTI
3rd Floor, SDC Building, Calgary Hospital Road, Malviya Nagar, Jaipur

AMBIKA CONCEPT
C-82/B, Chaitanya Marg, C-scheme, Jaipur

Amber Jaipur
632 Adarsh Nagar, Jaipur Rajasthan

Beautiful Clothes
P-7a, Tilak Marg, C-scheme, Jaipur

DASTKAR
S-52, Pearl Edge, Arvind Marg, Behind Jai Club, M.I. Road, Jaipur
COTERIE
C-9, Gokul Vatika, J.L.N. Marg, Jaipur

Deepa Sethi
Murain House-3, Jacob Road, Civil Lines, jaipur

Anokhi
C-11, KK Square, Prithviraj Road, C-Scheme, Jaipur

Clothes Rack
36, Sangram Colony lane opp. Mahavir School, C-Scheme, Jaipur. Best of International fashion brand names at very affordable prices. Fashion clothes for men and women. Must check it out.

Cotton Curio
3, Achrol House Scheme, Civil Lines, Near Ajmer Puliya, Mini Bazar, Jaipur.

Fabindia
CB-4 E- Prithviraj Road, C-scheme, Opp. Gate-4, Central Park, Jaipur

Ekta Bakshi (EB's)
A-4, Sardar Patel Marg, Adjoining to Rock Restaurant, Near Chomu Circle, C-scheme, Jaipur

Diwan Saheb
89, Ganpati Palaza, M.I. Road, Jaipur. Tel. 2388689. Sherwanis, Jodhpuri suits, Kurta Pyjamas, Business and Designer Suits, Party Shirts and Trousers, Safas, Ties, Accessories, World Class Fabrics & Customized Tailoring.

EB's
C-82, Prithviraj Road, C-Scheme, Jaipur. Awesome designs in : Kaftans, Kurtans, Shalwar-Kameez, Shirts, Skirts, Pyjamas, Wraps, Sarongs etc. Apart from the clothes we also house a babulous collection of Beaded Jewelry, Belts, Scarves, Bags and More…..

Geroo
Hues of Rajasthan Ethnic & Contemporary women's and Men's wear, available at 21, mangal vihar, kasliwal path, gopalpura by pass, Jaipur. 1

Indisoul
A Multiple Designer Label Retail Store, 153, M. I. Road, Near Laxmi Complex, Jaipur-1

Gulab Chand Fab & Prints
105-106, Mall 21, Ground Floor, opp. Rajmandir Cinema, Bhawan Das Road, Jaipur.

Jaipur Saree Kendra
D-69/A, JLN Marg, Near Teen Murti Circle.

Nikhaa Fashions Heritage
Saraogi Mansion, M.I. Road, Jaipur. Tel. 2576564. Manufacturers and wholesaler of exclusive designer Saree, Salwar Suite and Lehangas

Mehera Shaw
H-61/A, Meera Marg, Banipark, Jaipur.
Mugdha Store
Near Mr. Beans Cafe, C-scheme, Jaipur

Ocean Collection
D-138, Basant marg, Bani Park, Jaipur.

M.S. Overseas
752, Ban Walon ka Gate, Chaura Rasta, Jaipur.

Parivar
220, 1st Floor, Mall 21, Opp. Raj Mandir, Jaipur.

Pratap Sons
Saraogi mansion, M. I. Road, Jaipur.

Ratan Textiles
Papriwal Cottage, Ajmer Road, Jaipur. Manufactures & exporters of Handcrafted Home furnishings & garments.

Ranas
1, Ganpati Plaza, M.I. Road, Jaipur. Designer Sarees, Bridal Outfits, Salwar Kameez, Lehnga Chunni Sets, Tie Dye, Block Prints, Kurta Pajama Sets and Dress Material.

Ranas Legacy
11, M.I. Road, 2nd Floor, Opp. Amarpura temple, Jaipur.

Soma Shop
5, Jacob road, Civil Lines, near Jai Mahal Palace, Jaipur.

Sattva Saress
235, City Pulse Mall Narayan Sing Circle, Jaipur

Shilpi
Near Siliberi, R.B. Marg, Sanganer. Hand Block Prints, Sanganeri Prints, Vegetable Dyes, Organic Cotton, Silk Sarees, Khadi, Bamboo Fibre.

Suruchi
Pratibimb 3, Bhavani Singh Road, Opp. Nehru Sahkar Bhavan,

Utsav Sarees Forever
67-68, Saraogi Mansion, M.I. Road, Jaipur. Specialist in Traditional Bandhani Sarees & Exclusive Lehanga Chunni sets. For online shopping visit our E-Commerce

Textorium
M.I. Road, Jaipur.

Anita Thahryamal
Aashiana 11 Shiv Path, Suraj Nagar (W) Civil Lines Jaipur,